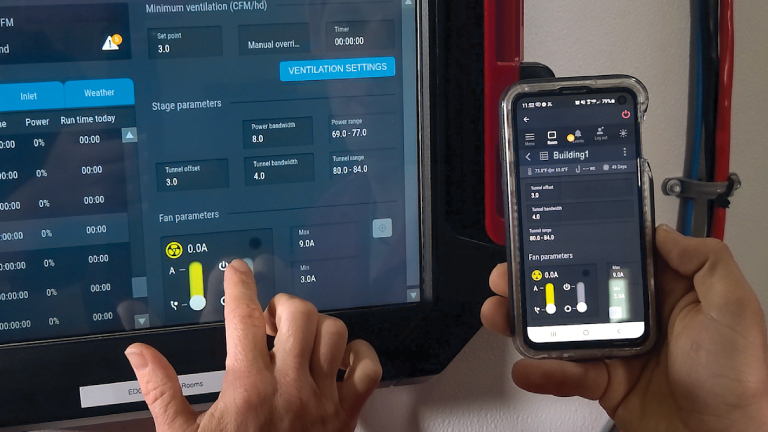 Precise monitoring requires controls that are able to conform to the specific needs of your production facility. AP control systems adapt to your climate and feeding requirements. They feature intuitive, user-friendly operation and construction built to withstand the rigors of the environment.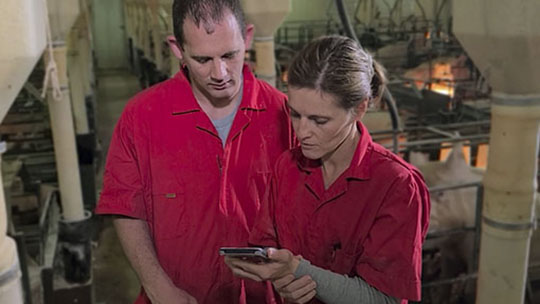 As the global population grows, the need for more efficient swine production solutions becomes increasingly important. With over 30 years of industry experience, AP (Automated Production Systems) is positioned to support this ever growing demand across the globe. AP is committed to delivering comprehensive solutions by providing you with equipment that works as hard as you do.
Chain Disk
FLEXIBILITY TO GO THE DISTANCE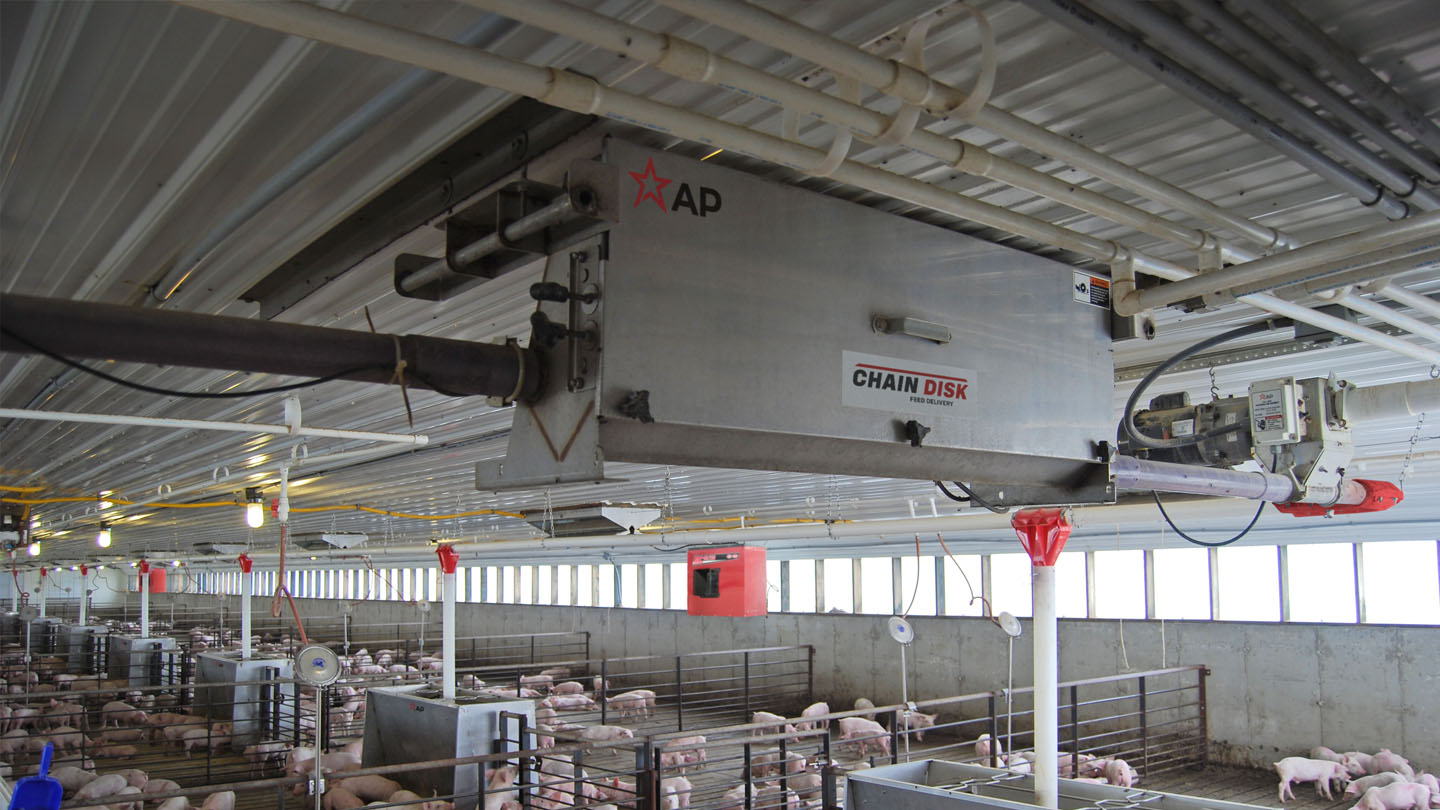 Chain Disk
FLEXIBILITY TO GO THE DISTANCE
Highlights
Deliver high capacities at long distances through multiple turns.
Gentle conveying limits feed damage.
Flexible, high volume design.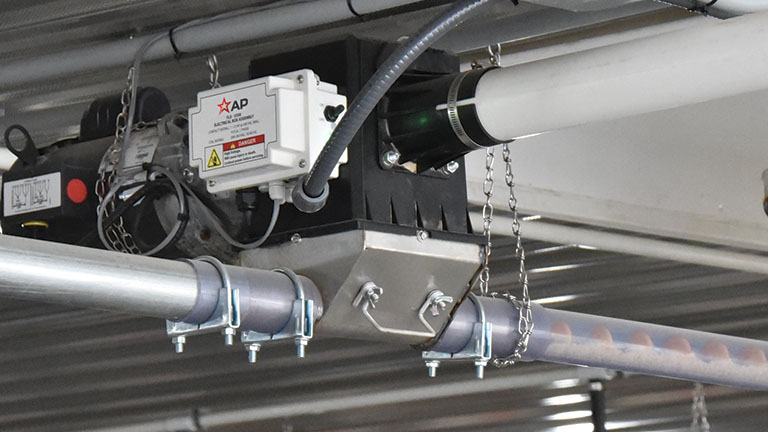 FLEXIBLE DESIGN
Chain Disk is ideally suited for delivering feed to multiple farrowing rooms, individual sow stalls, electronic sow feed systems and high-volume finishing facilities.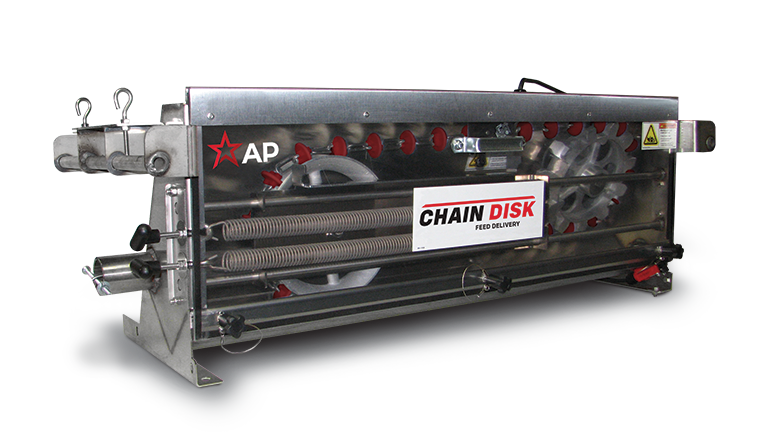 QUALITY COMPONENTS
Chain Disk's rugged design, quality components and unique control system out-perform the competition in capacity, distance and durability.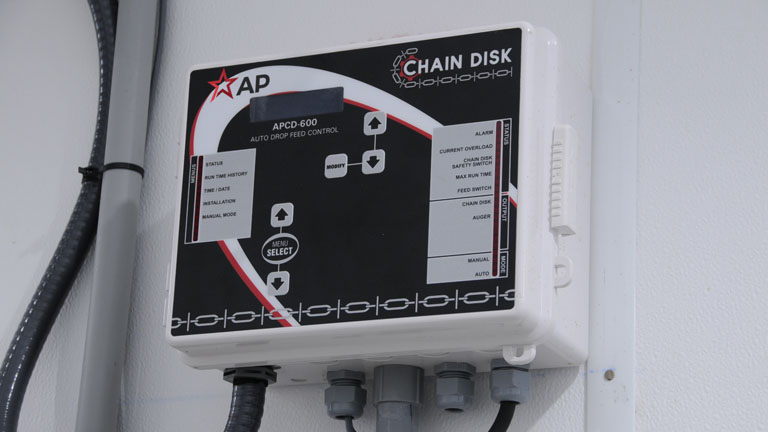 Available in Two Models
CHAIN DISK CONTROLLER
The APCD-500 features a 24-hour clock and actuator outputs, making it ideal for automated feeding in breeding and farrowing facilities.
With continuous feeding, the APCD-600 is the ideal controller for nurseries and finishing.
TUBE SENSOR
A tube-mounted sensor shuts the system down when feed returns to the inlet hopper (an indication that all feeders are full.) Chain Disk keeps the feed flowing with a sensor design that eases the challenges caused by empty farrowing or nursery rooms and eliminates the task of correctly positioning sows in breeding and gestation facilities.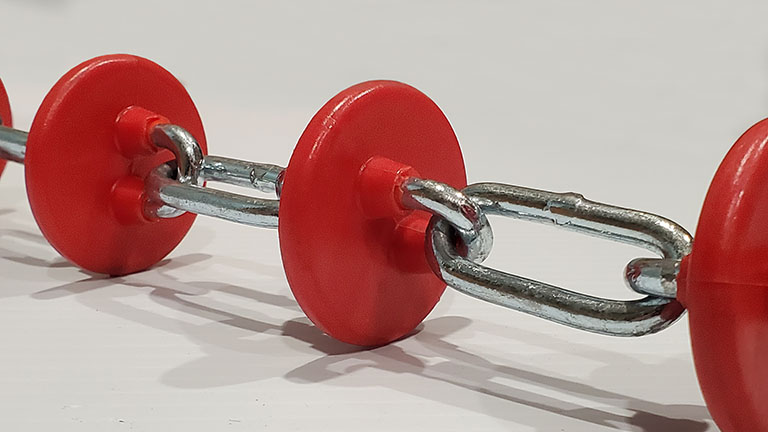 QUALITY CHAIN
Durable, low friction nylon disks injection-molded onto hardened steel chain provide years of trouble-free service and eliminate the maintenance and down-time associated with cable-style conveyors.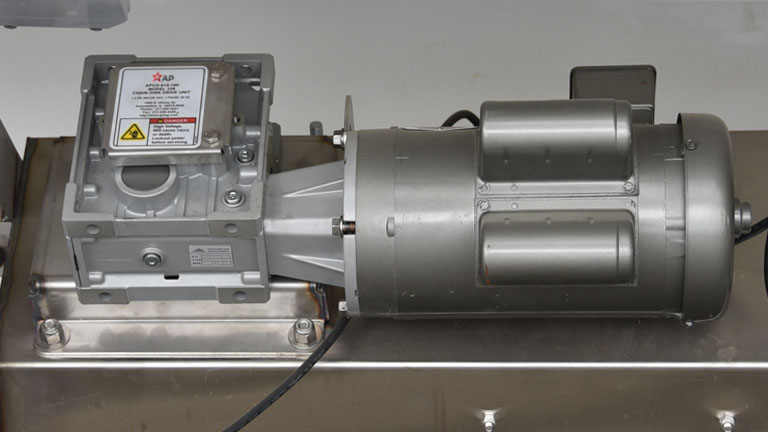 HEAVY-DUTY DRIVE UNITS
The high-efficiency drive units of Chain Disk perform with more torque and less horsepower, decreasing operatings costs. They are constructed of corrosion-resistant 304 stainless steel and feature heavy duty, helical-bevel gearboxes.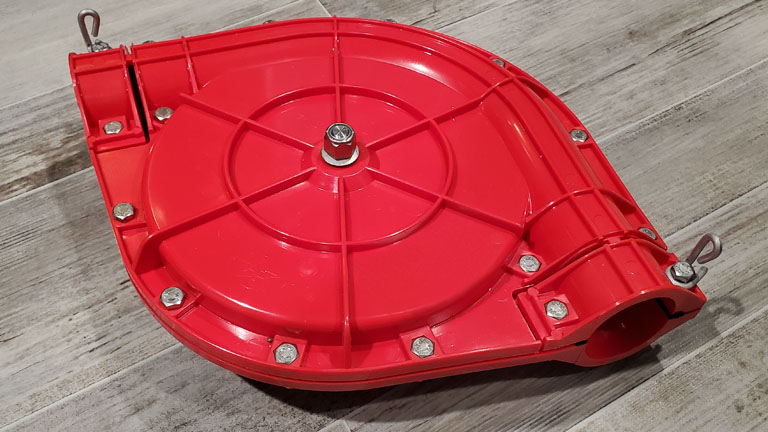 Durable Corner Housing
Corners have a tight radius allowing the system to turn 180° in a 24" space. Horizontal and vertical corners are available for maximum versatility. A cast metal wheel gently guides the chain through the corner. A sealed ball bearing will provide years of trouble free service.