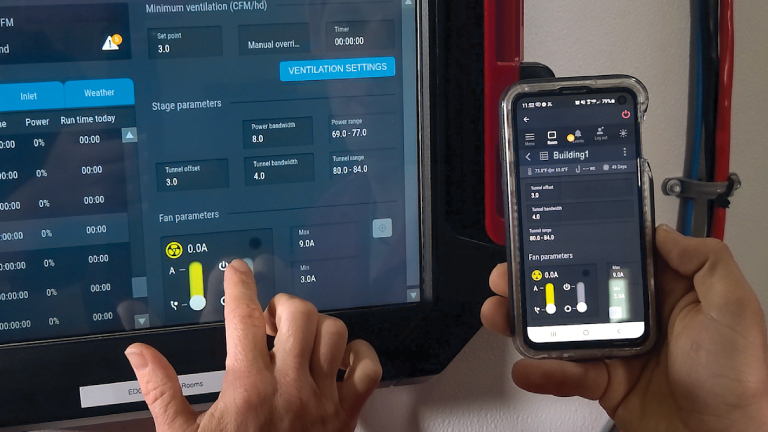 Precise monitoring requires controls that are able to conform to the specific needs of your production facility. AP control systems adapt to your climate and feeding requirements. They feature intuitive, user-friendly operation and construction built to withstand the rigors of the environment.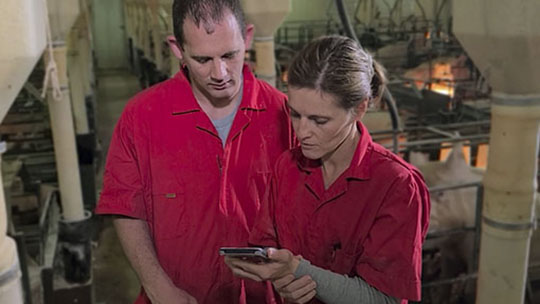 As the global population grows, the need for more efficient swine production solutions becomes increasingly important. With over 30 years of industry experience, AP (Automated Production Systems) is positioned to support this ever growing demand across the globe. AP is committed to delivering comprehensive solutions by providing you with equipment that works as hard as you do.
Flex-Flo™ Feed Delivery Systems
FLEXIBLE AND ADAPTABLE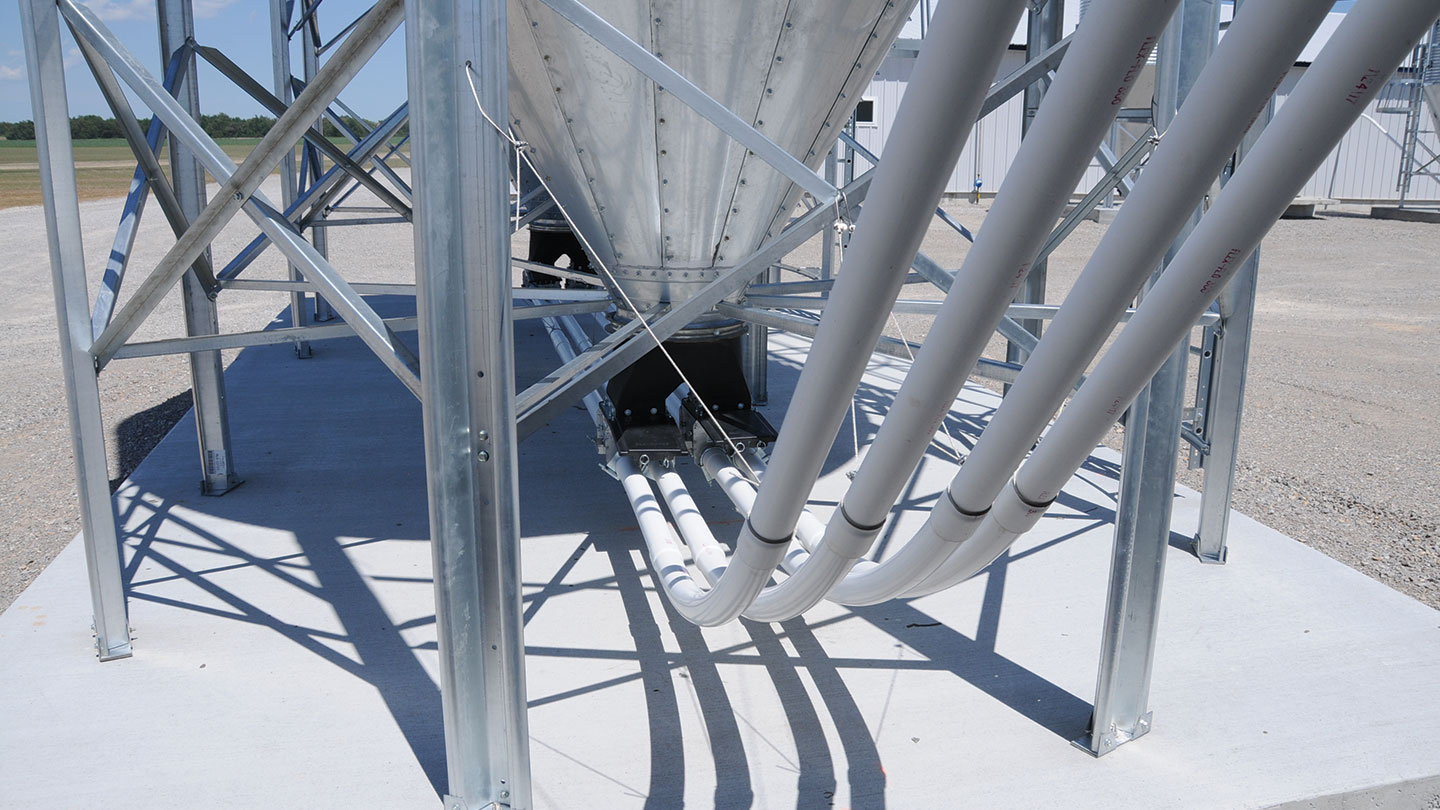 Flex-Flo™ Feed Delivery Systems
FLEXIBLE AND ADAPTABLE
Highlights
Flex-Flo tubing is UV stabilized and provides excellent wear resistance.
PVC tubing is extruded in-house under strict quality control to maintain exacting standards in the manufacturing process.
Provides flexibility in facility design.
Reduces dust, provides protection against insect and rodent contamination and reduces operation noise.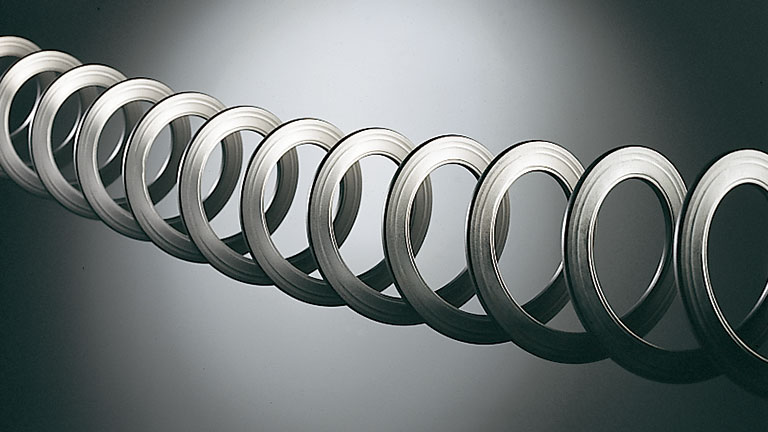 Quality Auger
AP augers are coiled in-house from high tensile steel wire, flattened prior to hardening for a more consistent, higher quality product. Flex-Flo models 300, HR, 350 and 500 undergo an exclusive manufacturing process for improved durability compared to a traditional auger.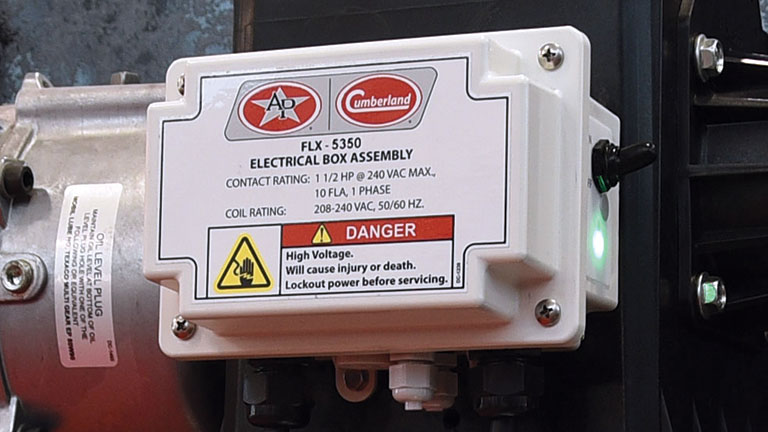 Moisture Resistant Control Box
Flex-Flo Control Unit
Flex-Flo control units utilize proprietary sensing technology for dependable feed delivery. The control unit can automatically adjusts sensing calibration to accommodate seasonal changes and wash-downs. Bi-color LED provides quick verification of operating status. The unit is constructed from non-corrosive materials for long life.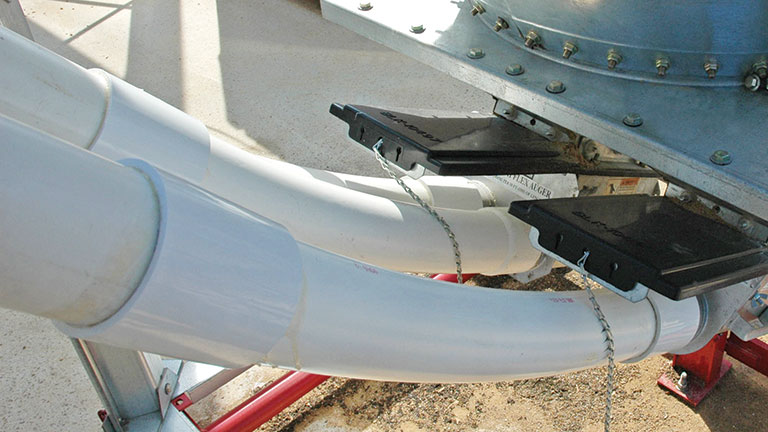 Options
System Efficiency
Unloader systems are offered in single, twin, tandem and twin tandem models. The Flex-Flo auger can be direct or belt-driven by a 1/3 to 1-1/2 horsepower/standard 358 RPM totally-enclosed fan-cooled motor. Other speeds are available for special applications.
| Flex-Flo Model | Capacity | Tube Diameter | Application |
| --- | --- | --- | --- |
| Model 220 | 15 lbs. (6.8 kgs.) per minute | 2.20" / 55mm |   |
| Model 300 | 50 lbs. (22.7 kgs.) per minute | 2.95" / 75mm |   |
| Model 350 | 100 lbs. (45.4 kgs.) per minute | 3.50" / 90mm |   |
| Model 220EP | 18 lbs. (8.2 kgs.) per minute | 2.20" / 55mm | Extended Pitch |
| Model 300P | 50 lbs. (22.7 kgs.) per minute | 2.95" / 75mm | Pellet Auger |
| Model HR | 50 lbs. (22.7 kgs.) per minute | 3.50" / 90mm | High Roughage |
| Model 500 | 220 lbs. (99.8 kgs.) per minute | 5.00" / 125mm |   |
Download Brochure for full Specifications