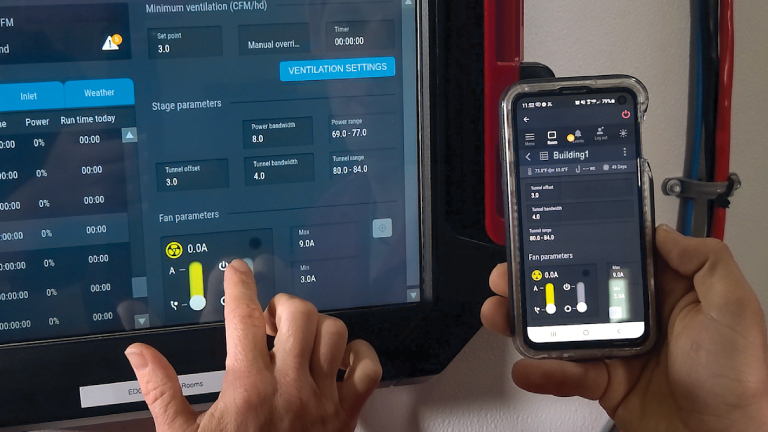 Precise monitoring requires controls that are able to conform to the specific needs of your production facility. AP control systems adapt to your climate and feeding requirements. They feature intuitive, user-friendly operation and construction built to withstand the rigors of the environment.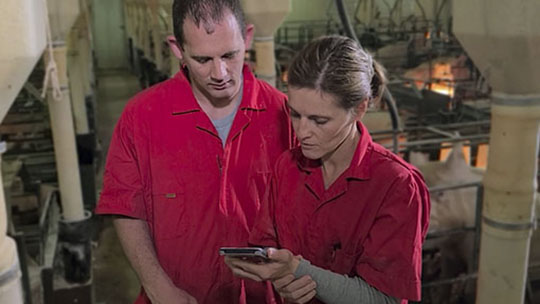 As the global population grows, the need for more efficient swine production solutions becomes increasingly important. With over 30 years of industry experience, AP (Automated Production Systems) is positioned to support this ever growing demand across the globe. AP is committed to delivering comprehensive solutions by providing you with equipment that works as hard as you do.
Commander Series Fans
VARIABLE SPEED PRECISION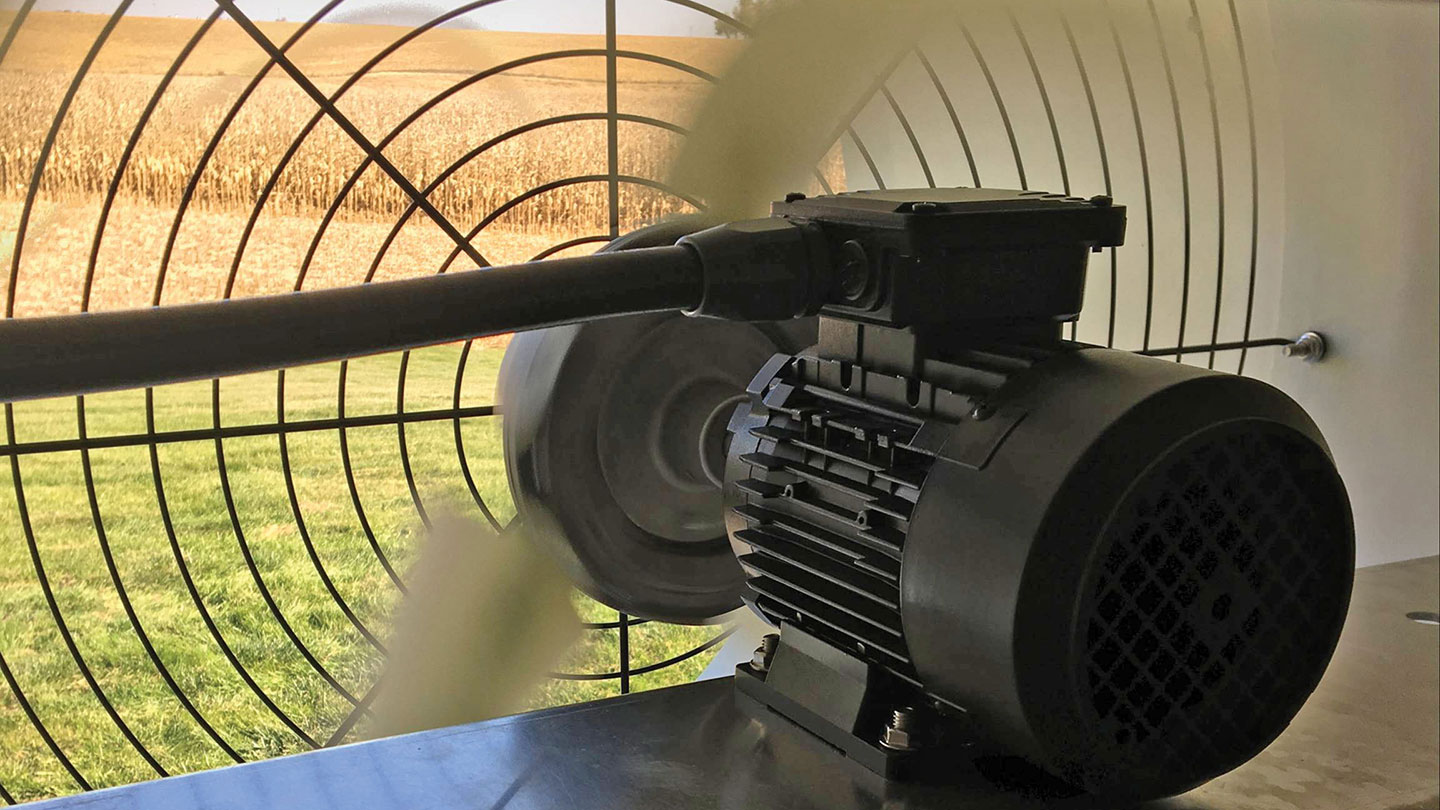 Commander Series Fans
VARIABLE SPEED PRECISION
Highlights
24", 36" and 54" models available.
Remote access through your EDGE® control system.
Built for high efficiency, high output.
Single and three phase power supplies.
0-10 volt or 10-0 volt input for speed control of the fan.
No belts, pulleys or grease.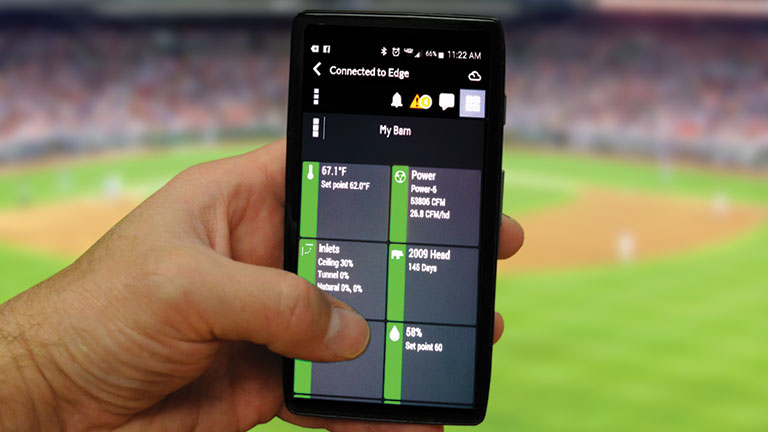 EDGE Control System
When connected to an EDGE control system you can remotely monitor the system and see the current draw of each Commander fan.
Learn More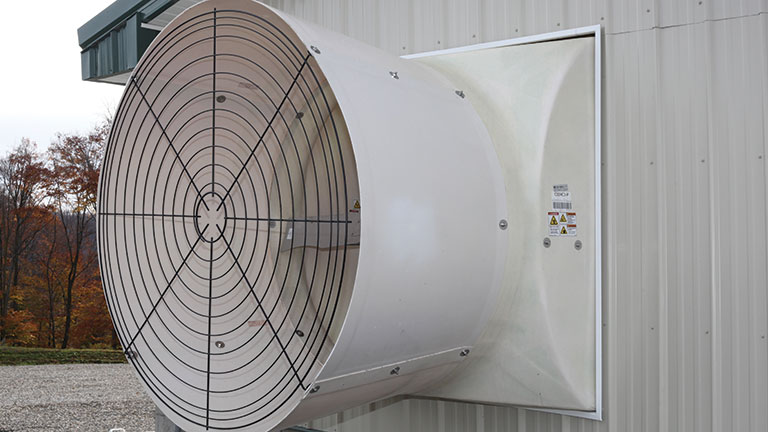 Fiberglass Housing
Durable and aerodynamic fiberglass housing with stainless steel mounting hardware.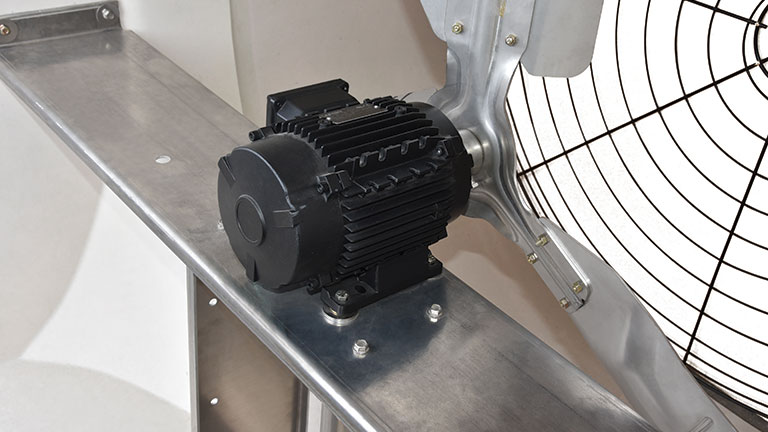 Commander Direct Drive
High performance, permanent magnet motor runs cool to the touch and supplies constant torque to the propeller.
Aluminum motor mounts, stainless steel hardware and non-corrosive props.
Click — to collapse tables.
24" COMMANDER PVC SHUTTER WITH CONE
230 VAC 60 Hz - Single Phase Power
Bess Lab Test 22496
1393 RPM / AFR / 0.95

| Static Pressure | Airflow | Efficiency |
| --- | --- | --- |
| 0.05 | 10,890 | 8.4 |
| 0.10 | 10,730 | 8.0 |
1255 RPM / AFR / 0.94

| Static Pressure | Airflow | Efficiency |
| --- | --- | --- |
| 0.05 | 9,770 | 10.1 |
| 0.10 | 9,560 | 9.7 |
1117 RPM / AFR / 0.92

| Static Pressure | Airflow | Efficiency |
| --- | --- | --- |
| 0.05 | 8,620 | 12.5 |
| 0.10 | 8,410 | 11.9 |
976 RPM / AFR / 0.89

| Static Pressure | Airflow | Efficiency |
| --- | --- | --- |
| 0.05 | 7,440 | 15.9 |
| 0.10 | 7,170 | 14.7 |
837 RPM / AFR / 0.80

| Static Pressure | Airflow | Efficiency |
| --- | --- | --- |
| 0.05 | 6,250 | 20.2 |
| 0.10 | 5,940 | 18.5 |
697 RPM / AFR / 0.39

| Static Pressure | Airflow | Efficiency |
| --- | --- | --- |
| 0.05 | 4,980 | 25.7 |
| 0.10 | 4,510 | 22.1 |
558 RPM / AFR / NA

| Static Pressure | Airflow | Efficiency |
| --- | --- | --- |
| 0.05 | 3,650 | 31.5 |
| 0.10 | 1,830 | 16.9 |
456 RPM / AFR / NA

| Static Pressure | Airflow | Efficiency |
| --- | --- | --- |
| 0.05 | 1,990 | 31.1 |
| 0.10 | 760 | 9.4 |
24" COMMANDER PVC SHUTTER WITHOUT CONE
230 VAC 60 Hz - Single Phase Power
Bess Lab Test 23126
1209 RPM / AFR / 0.88

| Static Pressure | Airflow | Efficiency |
| --- | --- | --- |
| 0.05 | 14,540 | 12.5 |
| 0.10 | 13,950 | 11.7 |
1080 RPM / AFR / 0.83

| Static Pressure | Airflow | Efficiency |
| --- | --- | --- |
| 0.05 | 12,820 | 15.4 |
| 0.10 | 12,140 | 14.2 |
960 RPM / AFR / 0.77

| Static Pressure | Airflow | Efficiency |
| --- | --- | --- |
| 0.05 | 11,110 | 18.8 |
| 0.10 | 10,310 | 16.9 |
840 RPM / AFR / 0.65

| Static Pressure | Airflow | Efficiency |
| --- | --- | --- |
| 0.05 | 9,300 | 22.9 |
| 0.10 | 8,250 | 19.8 |
721 RPM / AFR / 0.44

| Static Pressure | Airflow | Efficiency |
| --- | --- | --- |
| 0.05 | 7,350 | 27.6 |
| 0.10 | 6,220 | 22.7 |
602 RPM / AFR / NA

| Static Pressure | Airflow | Efficiency |
| --- | --- | --- |
| 0.05 | 5,380 | 31.9 |
| 0.10 | 3,930 | 23.3 |
36" COMMANDER ROLLSEAL SHUTTER
230 VAC 60 Hz - Single Phase Power
Bess Lab Test 19244
1207 RPM / AFR / 0.93

| Static Pressure | Airflow | Efficiency |
| --- | --- | --- |
| 0.05 | 17,330 | 13.39 |
| 0.10 | 16,810 | 12.53 |
1080 RPM / AFR / 0.88

| Static Pressure | Airflow | Efficiency |
| --- | --- | --- |
| 0.05 | 15,340 | 16.48 |
| 0.10 | 14,660 | 15.08 |
960 RPM / AFR / 0.84

| Static Pressure | Airflow | Efficiency |
| --- | --- | --- |
| 0.05 | 13,420 | 20.00 |
| 0.10 | 12,810 | 18.54 |
841 RPM / AFR / 0.76

| Static Pressure | Airflow | Efficiency |
| --- | --- | --- |
| 0.05 | 11,580 | 25.28 |
| 0.10 | 10,840 | 22.77 |
721 RPM / AFR / 0.53

| Static Pressure | Airflow | Efficiency |
| --- | --- | --- |
| 0.05 | 9,670 | 32.45 |
| 0.10 | 8,770 | 28.02 |
602 RPM / AFR / NA

| Static Pressure | Airflow | Efficiency |
| --- | --- | --- |
| 0.05 | 7,720 | 41.73 |
| 0.10 | 6,480 | 33.40 |
36" COMMANDER PVC SHUTTER
230 VAC 60 Hz - Single Phase Power
Bess Lab Test 19243
1207 RPM / AFR / 0.91

| Static Pressure | Airflow | Efficiency |
| --- | --- | --- |
| 0.05 | 16,650 | 12.48 |
| 0.10 | 16,030 | 11.62 |
1080 RPM / AFR / 0.88

| Static Pressure | Airflow | Efficiency |
| --- | --- | --- |
| 0.05 | 14,730 | 15.34 |
| 0.10 | 14,150 | 14.26 |
960 RPM / AFR / 0.82

| Static Pressure | Airflow | Efficiency |
| --- | --- | --- |
| 0.05 | 12,960 | 19.11 |
| 0.10 | 12,330 | 17.51 |
841 RPM / AFR / 0.71

| Static Pressure | Airflow | Efficiency |
| --- | --- | --- |
| 0.05 | 11,100 | 23.77 |
| 0.10 | 10,420 | 21.53 |
721 RPM / AFR / 0.42

| Static Pressure | Airflow | Efficiency |
| --- | --- | --- |
| 0.05 | 9,110 | 30.37 |
| 0.10 | 8,080 | 25.49 |
602 RPM / AFR / NA

| Static Pressure | Airflow | Efficiency |
| --- | --- | --- |
| 0.05 | 6,930 | 37.46 |
| 0.10 | 5,090 | 27.51 |
54" COMMANDER ROLLSEAL SHUTTER
230 VAC 60 Hz - Single Phase Power
Bess Lab Test 18576
708 RPM / AFR / 0.89

| Static Pressure | Airflow | Efficiency |
| --- | --- | --- |
| 0.05 | 35,200 | 17.60 |
| 0.10 | 34,100 | 16.51 |
693 RPM / AFR / 0.88

| Static Pressure | Airflow | Efficiency |
| --- | --- | --- |
| 0.05 | 34,600 | 18.57 |
| 0.10 | 33,400 | 17.15 |
617 RPM / AFR / 0.85

| Static Pressure | Airflow | Efficiency |
| --- | --- | --- |
| 0.05 | 31,900 | 24.06 |
| 0.10 | 30,300 | 21.64 |
554 RPM / AFR / 0.79

| Static Pressure | Airflow | Efficiency |
| --- | --- | --- |
| 0.05 | 27,400 | 28.45 |
| 0.10 | 25,600 | 25.00 |
425 RPM / AFR / 0.40

| Static Pressure | Airflow | Efficiency |
| --- | --- | --- |
| 0.05 | 20,000 | 43.86 |
| 0.10 | 17,300 | 35.31 |
54" COMMANDER PVC SHUTTER
230 VAC 60 Hz - Single Phase Power
Bess Lab Test 18575
708 RPM / AFR / 0.89

| Static Pressure | Airflow | Efficiency |
| --- | --- | --- |
| 0.05 | 33,900 | 16.49 |
| 0.10 | 32,700 | 15.34 |
693 RPM / AFR / 0.89

| Static Pressure | Airflow | Efficiency |
| --- | --- | --- |
| 0.05 | 33,200 | 17.24 |
| 0.10 | 31,900 | 15.98 |
617 RPM / AFR / 0.84

| Static Pressure | Airflow | Efficiency |
| --- | --- | --- |
| 0.05 | 29,500 | 21.53 |
| 0.10 | 28,100 | 19.58 |
554 RPM / AFR / 0.78

| Static Pressure | Airflow | Efficiency |
| --- | --- | --- |
| 0.05 | 26.200 | 25.89 |
| 0.10 | 24,600 | 23.12 |
422 RPM / AFR / 0.32

| Static Pressure | Airflow | Efficiency |
| --- | --- | --- |
| 0.05 | 18,800 | 39.09 |
| 0.10 | 16,000 | 31.62 |