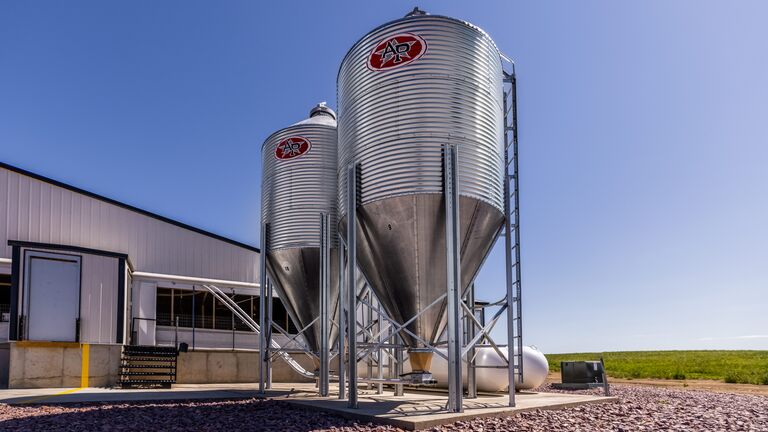 Swine producers depend on efficient and reliable delivery of feed. Helping to ensure that is the latest load cell technology that automates the monitoring of bulk feed tanks.
Idlenot Farms is a family-owned company based in Larchwood, Iowa that operates a feed mill and swine production business. The company serves 40 wean-to-finish contract producers located in Iowa, Minnesota and South Dakota.
About nine years ago, the company began installing AP load cells on bulk feed tanks at the producer sites. The load cells continuously monitor feed levels, sending back information to Idlenot Farms using AP's Network Master and Feed-Link technology.
Tyler Moser, the company's wean-to-finish production manager, said the load cells not only help prevent costly out-of-feed situations, but also support a more efficient and flexible production schedule. "The system provides vital information to help us to better manage the ordering of feed inputs and ensure timely deliveries to producers," he said.
WHAT'S THE TRUE COST OF A SWINE OPERATION OUT-OF-FEED EVENT?
Currently, the load cells monitor more than 200 producer feed tanks, about 80% of the total. Included are AP's newly calibrated load cells that provide bin weight accuracy within 1%. These factory-calibrated load cells eliminate the need for on-site calibration.
Moser noted that in a traditional swine operation, producers manually check their feed tanks in dispersed barn locations. This often involves knocking on the feed tank to check for hollow sounds or climbing to the top for a visual inspection and then calling in an order, which might be incorrect or require a rush delivery.
"The load cells help prevent human error and also save producers a lot of time," Moser said. "No training is required and they don't have to worry about their feed tanks when they are away from the farm or on vacation."
Another benefit of the automated system is that it provides flexibility to adjust the production schedule based on weather events. "Weather forecasts are usually pretty good. If a blizzard is coming that would impact our feed production or delivery schedule, we can prioritize to serve those operations that need feed the most so they can make it through the storm," he explained.
The automated system also evens out the production schedule, helping to avoid surges based on rush orders. "Pigs eat seven days a week and we like to work five days a week," said Moser. "Our goal is to +make 300 tons of feed every day and have a smooth workflow. The load cells allow us to do that so our employees can be done by quitting time."
Moser figures that the AP loads cells more than pay for themselves through increased efficiency and avoiding out-of-feed situations. "If you can eliminate those kinds of incidents from the production system that helps out a lot of other things."
For more information about AP load cells, contact your AP dealer or visit www.automatedproduction.com.