What's the True Cost of a Swine Operation Out-of-Feed Event?
Swine producers know that running out of feed can be a nightmare, leading to extended time to market, animal health issues and greater expense for the operation. Identifying what causes these events - and what you can do to prevent them - can be a game changer.
How Does an Out-Of-Feed Event Occur?
It sounds simple enough - for whatever reason, you're out of feed. This can happen for a few reasons:
Your bulk tank runs out
A delivery truck gets held up
The feed mill gets overwhelmed
The feed in your bulk tank gets bridged and doesn't flow freely through the system and into your feeders
You have an equipment breakdown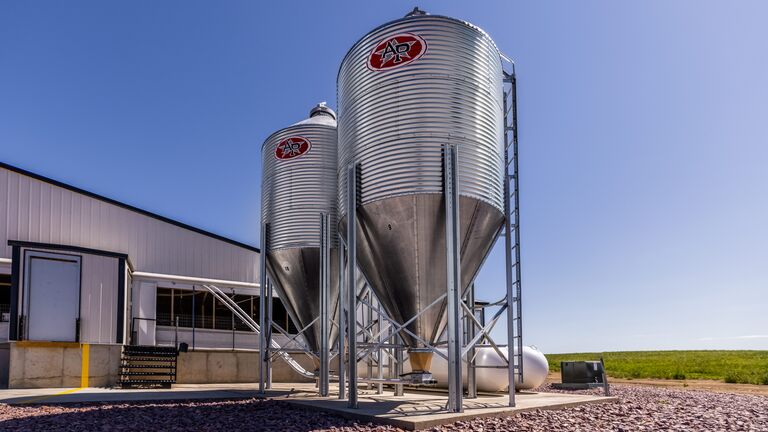 What are the Consequences of an Out-of-Feed Event?

While there are differing opinions on the exact length of time that can be considered an "out-of-feed event," let's say it's 6-12 hours without feed. Every time this happens, it adds a full day to your time-to-slaughter. The average monetary cost per event is $1.85 per pig per barn. Running those costs across your barn adds up quickly. If it happens twice in a herd of 2,500 animals, that's a loss of $9,250!*
Another challenge caused by an out-of-feed event is pen aggression. Hungry pigs will fight to get back to the trough when their feed returns.
This can lead to a range of other animal health issues. For example, 60 percent of hogs obtain ulcers from these stressful events, and 5 percent will be at risk for developing hemorrhagic bowel syndrome. As far as body condition, pigs that experience an out-of-feed event may have an increased backfat depth on recovery and less muscle mass conversion.
What Can You Do to Prevent Out-of-Feed Events?
Feed management systems help producers monitor and control the animal feed consumption and productivity functions in their barns. They can also provide feedback on equipment, animal and barn performance, such as providing no dispense alerts, customized reordering and a more streamlined communications process to the feed mill, home office or veterinarian.
AP's Feed Management system, in combination with their bulk feed bin scale and calibrated load cell technology - can monitor, control, and even predict when feed bins will be empty - cutting down on out-of-feed events and wasted deliveries - which can lead to biosecurity issues and average costs to the producer of $420 a trip.
AP LOAD CELLS HELP IOWA SWINE FEED MILL MAXIMIZE PRODUCTION EFFICIENCY
Let's say you're an integrator looking at building a feed mill to support the needs of your operation. Installing the AP system could help you develop a better understanding of when and where feed was needed. This could make you much more efficient on transporting feed through the sites, meaning you might not have to build the feed mill at that time as you'd anticipated.
Another advantage of the system is the reduction in feed recovery, which can cost roughly $1,000 per event.* You wouldn't want to start a herd with the last of the finish rations from the previous herd, right? Pigs average 2 lbs lighter at closeout when they are fed an incorrect ration that came from a reclamation site.*  Using the data from the AP system, you'll have the right amount of feed to get your hogs to market, without having to worry if excess feed has to be reclaimed.

Calculate the Cost For Your Swine Operation
Want to do the math for your operation?
Visit our ROI calculator to see how an out-of-feed event can impact your bottom line, and how APs Feed Management System could pay for itself in less than one turn!
The Feed Management System is compatible with AP's EDGE and EDGE 2 controller systems, and for barns without an EDGE controller, AP can offer the Network Master solution to their existing system.
* Sources: Mike Brumm, Brian Richert, Jeremy Forde, National Pork Board, Purdue University, University of Nebraska and Kansas State University